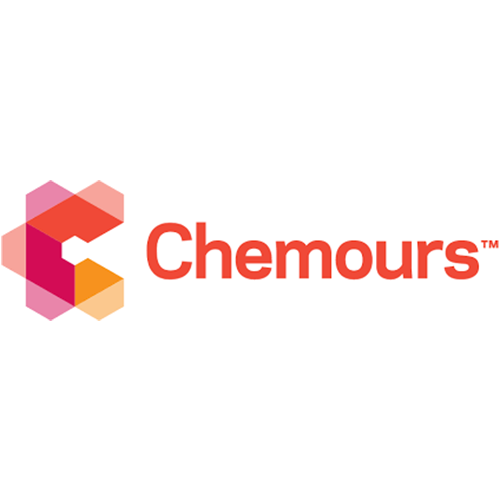 The Chemours Company is a chemical company that was founded in July 2015 as a spin-off from DuPont Co. This spin-off of DuPont's "performance chemicals" business quickly grew as a worldwide leader in chemical solutions, with stock
beginning trading on the New York Stock Exchange on 2015. It has its corporate headquarters in Wilmington, Delaware, United States, and operations worldwide, with production facilities in Dordrecht (The Netherlands) and international operation headquarters located in Geneva (Switzerland). Chemours manufactures and sells performance chemicals falling within three segments: fluorochemicals (industrial
fluoropolymer resins and derivatives, including Teflon™, Nafion™ and Viton™, and eco-friendly fluororefrigerants as Freon™), titanium technologies (TiO2) and chemical solutions (sulfuric acid, aniline, methylamines and reactive metals). Among the fluorochemicals portfolio, Teflon™ is by far the market leader fluoropolymer in thousands of uses, from non-stick cookware to cell phone antennas. Nafion™ is the
premier choice for high power output and durability in the fuel cell industry. Chemours, a customer-centered company, features three core aspects to satisfy the user's demand worldwide: a streamlined product portfolio, optimizing growth for business in key developed and developing markets worldwide; product advantage, through
transformative product innovations and novel, customer-led applications— differentiated to continuously improve our products; and operational advantage, by continuously improving production efficiency, which is supported by an unmatched reliability of global supply chains.
Baanhoekweg 22
3313 LA Dordrecht
Netherlands
Phone: +31786301011
Role in Sinfonia
Leading company for the production of F-chemicals worlwide, in-depth physicochemical characterization of all PFHA polymes, fluoropolymer processing, technoeconomic analysis, value chain development.
Key people involved and expertise
Dr. Benjamin W. Messmore (male). CHEM's Technology Manager, expert in polymer chemistry and production, coating applications, fluoropolymers injection, moulding and extrusion, and new products development. Filed >10 patents on production and processing of F-chemicals and fluoropolymers.